We've just returned from another successful Big Android BBQ (BABBQ). Just a year removed from our first conference/event as the Vinli Dev Team, we revisited the site of our humble beginnings.
Last year, Vinli was just coming into its own with a grand vision to revolutionize the transportation sector and to enable hordes of developers to create new apps and companies to take advantage of the opportunities at hand.
.@VinliDev engineer, @Ngingric hamming it up w/ #Android devs about #connectedcar @AndroidBBQ #Texas pic.twitter.com/NEvagbcqdc

— Blake Burris (@blakeburris) October 18, 2014
This year, our goal was to assess Android developers' interest in building with Vinli APIs. What perfect timing as we are shipping product to many who supported us last year. I'd like to thank each and every one of you for that!

This year, we brought out the Vinli Grand Prix track to Hurst Texas (in our own backyard). Aside from overwhelming developer interest in the loads of new data Vinli is exposing, we found that our friends at the Big Android BBQ also thoroughly enjoyed racing cars on our Mini-Z RC track. We offered a tantalizing prize in the form of NVIDIA's new SHIELD! Let's just say it shut down the entire BABBQ for about 30 minutes as passers-by couldn't resist crowding around to investigate the buzz and noise emanating from our drivers and their RC cars. It was a magical experience. What a proud papa I was!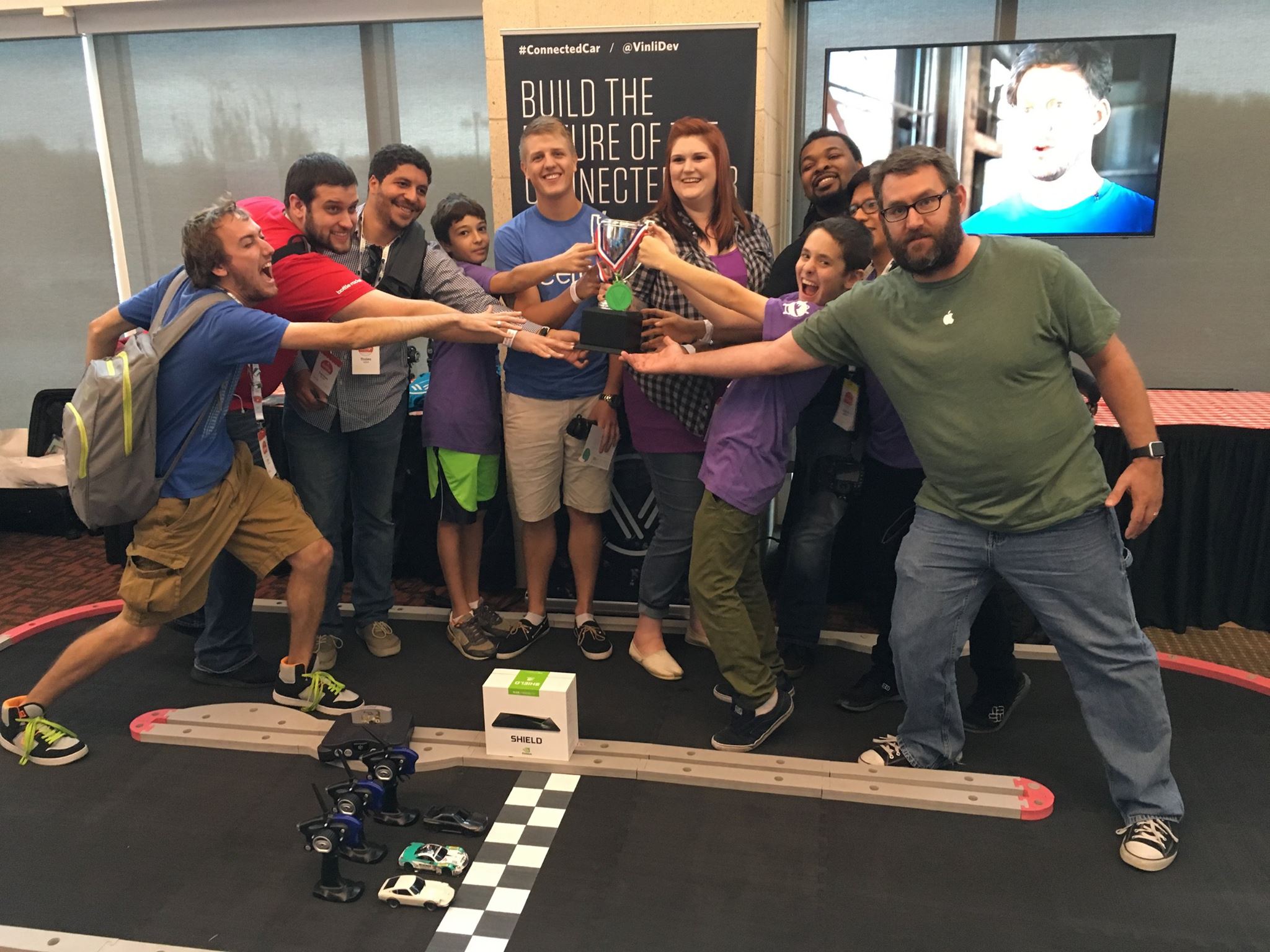 And what should a great activation at a conference also do (this may be a whole other blog post in itself)? It should encourage participation. The moment neighboring booths laid eyes on the spectacle, they immediately popped over asking to enter their products as a prize to our participants! My personal favorite was the Cyanogen phone given away by, who else, Cyanogen! The winner there had to race the dev from C and beat him in order to claim his prize!
This wraps up an incredible year for Vinli! Only 360 days to go until the 3rd year – when the party will happening in Austin! We have some special plans for y'all that involved kettlebells and sunrise swimming.